Recipe: From Milkweed to Seaweed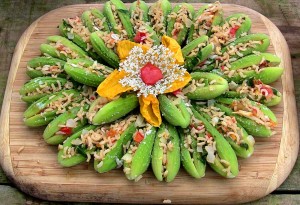 Stuffed milkweed pods
Choose pods that are young, firm and easily sliced.  If they feel at all tough or stringy, don't use them.
Ingredients:
24 young milkweed pods
Cup precooked grain (Rice, millet or quinoa)
Small onion
2 cloves garlic
1/2 small red pepper
1/2 cup wild greens (lambsquarters, purslane, mustard or stinging nettle)
small piece of ginger
teriyaki sauce
Salt & pepper
Coconut oil
Directions:
Turning the pod in your hand, look for the seam.  Split the pod carefully along the seem so that you expose the white seed cluster without pulling the pods apart.  Using a blunt knife, work the center out of the pod.  If it comes out whole, it will resemble a small white fish.  Put it on one side.
Put the pod cases into boiling salted water and cook for about 5 minutes.  Drain
Filling:
Slice the ginger and sauté in a pan containing two tbsp coconut oil
Chop the onion fine and add to pan
After a minute add finely chopped garlic cloves and chopped red pepper
Chop greens and add to mixture and cook for another minute
Stir in the grain and cook until hot
Remove ginger and flavor with about 1 tbsp teriyaki sauce
Add pepper to taste
Carefully fill each pod with stuffing and arrange on a platter
Garnish and serve
to watch our video, click here
Share and Enjoy