How to identify, harvest and prepare Ginkgo biloba for brain health

According to the Mayo Clinic, "Ginkgo biloba has been used medicinally for thousands of years. Today, it is one of the top-selling herbs in the United States".
Ginkgo can be used to treat Alzheimer's dementia, memory enhancement in healthy subjects, altitude (mountain) sickness, symptoms of premenstrual syndrome (PMS), age-related eye disorders, and the reduction of chemotherapy-induced end-organ vascular damage. You can buy Ginkgo biloba as a supplement, but did you know that they are also good to eat? And quite tasty. Learn how to find, harvest and prepare Ginkgo biloba for a tasty treat that'll give your brain a boost.
What is Ginkgo?
Ginkgo biloba – L. is a unique species of large deciduous trees with fan-shaped leaves that turn yellow in the fall. As a living fossil it dates back 270 million years.
How to find Ginkgo nuts
October is a good time to look for them in the Northeast. I first encountered gingko berries in Manhattan. One warm October day I was walking along the streets in the Village when I was suddenly assailed by an overpowering smell that made me think I'd trodden in something disgusting. I looked down to see that the sidewalk was covered in squishy orange splatters and large nut like seeds. I immediately noticed that I was standing under a ginkgo tree, which had large orange berries clinging tightly to its branches.
I've come across them many times since. However, it is rare in the city that the fruit stays on the ground long enough to get squashed, as local Asian women (and sometimes men) are quick to gather them up. I often wondered why this was. Was it for their medicinal uses or as food? And who would want to eat something that smelt like it had already been eaten and regurgitated? It wasn't until years later that a friend produced a bag of nuts, that I was able to discover the joys of ginkgo nuts.
While walking my dogs around the neighborhood, I've come across at least two female trees (the ones that fruit). Since nobody in my village gathers the berries, and the neighbors in the immediate vicinity are only too glad to see them cleaned up, I have free reign over gathering up the stinky fruit.
How to harvest Ginkgo nuts
I've been harvesting berries for the past three weeks, since they began to ripen and fall. Every time we walked past the tree, I'd stop and gather whatever had fallen to the ground. It reached the point where my dogs anticipate my stopping.
Gathering was slow at first. It took about a week to collect the first pint. Then, I collected a whole pint at one time. A couple of days later it rained heavily. When I went to check out the tree, there was about a quart of fruit laying on the ground. Every day since then, I've found between a pint and a quart of berries. However, as the berries ripened, I began finding plain nuts that had popped free of the squishy fruit. After that I found more and more nuts and less intact berries.
One lesson I learned was that you shouldn't keep the berries in your pockets. I was out walking one day and came across a bunch of ginkgo berries laying on the ground. Not having a receptacle of any sort, I shoved them into my sweatshirt pocket. The trouble is that I was headed to a social event. Needless to say I had to go home and change.
Preparing Ginkgo nuts
Once I had a good amount of berries, I had the job of removing the smelly berry goop from around the nuts. I was wise enough to put on a pair of rubber gloves, but I made the novice mistake of cleaning them indoors. I learned my second valuable lesson, when removing and cleaning ginkgo nuts, do it outside. Yet another handy tip to know is to be sure to wash the nuts thoroughly, as they tend to retain the smell.
Roasted Ginkgo nut recipe
So what do you do with the nuts once they are clean and dry? So far, I have tried them oven roasted, pan roasted (alla popcorn) and shelled and pan roasted. Sachi, with her Japanese upbringing, has had them simply boiled in the shell (about 5-10 min) as well as out of a can from the Asian market. In each case, they reminded me of slightly chewy chestnuts.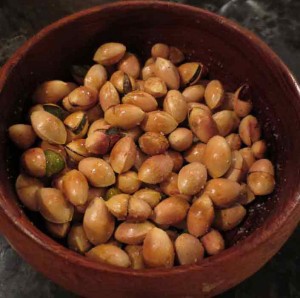 To pan roast ginkgo, put about a tablespoonful of oil in a pan and heat it until it begins to smoke. You can cook the nuts in the shells. Pour the nuts into the pans and toss them around to make sure they are coated in the oil. Agitate the pan until the shells begin to burst (like popcorn). It is a good idea to have the lid on at this point to stop shells from flying all over the room. Give the exploding nuts a minute or two then turn off the heat. Allow to cool, sprinkle with salt and serve.
Warnings
According to the Plants for a Future entry on Ginkgo, the seed contains a mildly acrimonious principle that is unstable when heated. It is therefore best to cook the seed before eating it to ensure any possible toxicity is destroyed.
What's your experience with Ginkgo? Please share!
If you don't have Ginkgo biloba in your neighborhood and would still like to enjoy its benefits, we recommend purchasing it in the capsule form from a reputable organic supplier. We like Mountain Rose Herbs for several reasons – they are an organic member of the Oregon Tilth, fair-trade, sustainable, earth kosher and zero-waste. You may buy ginkgo biloba from them here.
Share and Enjoy